All these products have been tried and true. Either I have been using them for years or recently discovered and have finished the bottle only to re-order! From day to night, lux to saving bucks and everything in between.  Let's do this!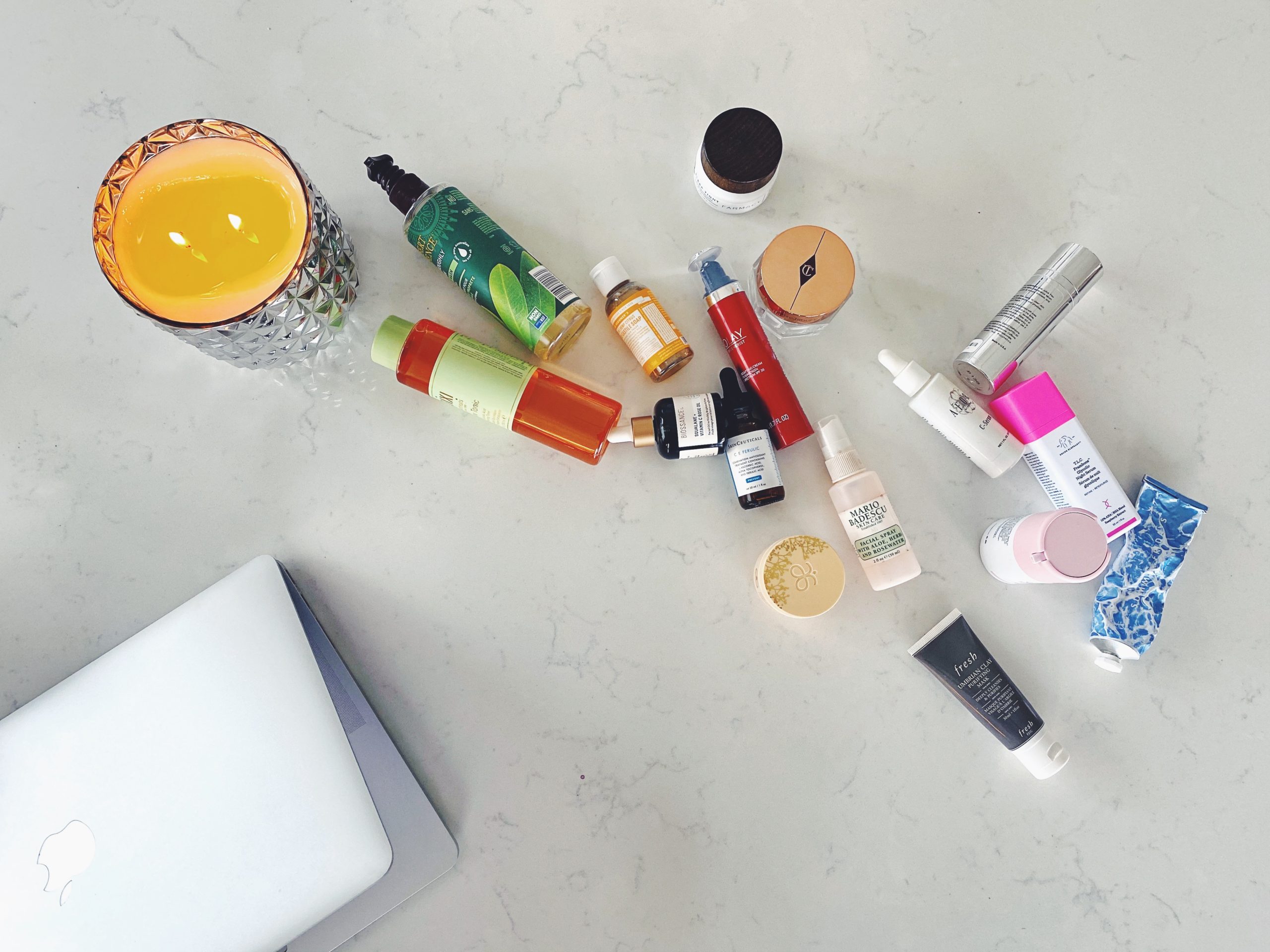 First stop, cleansers: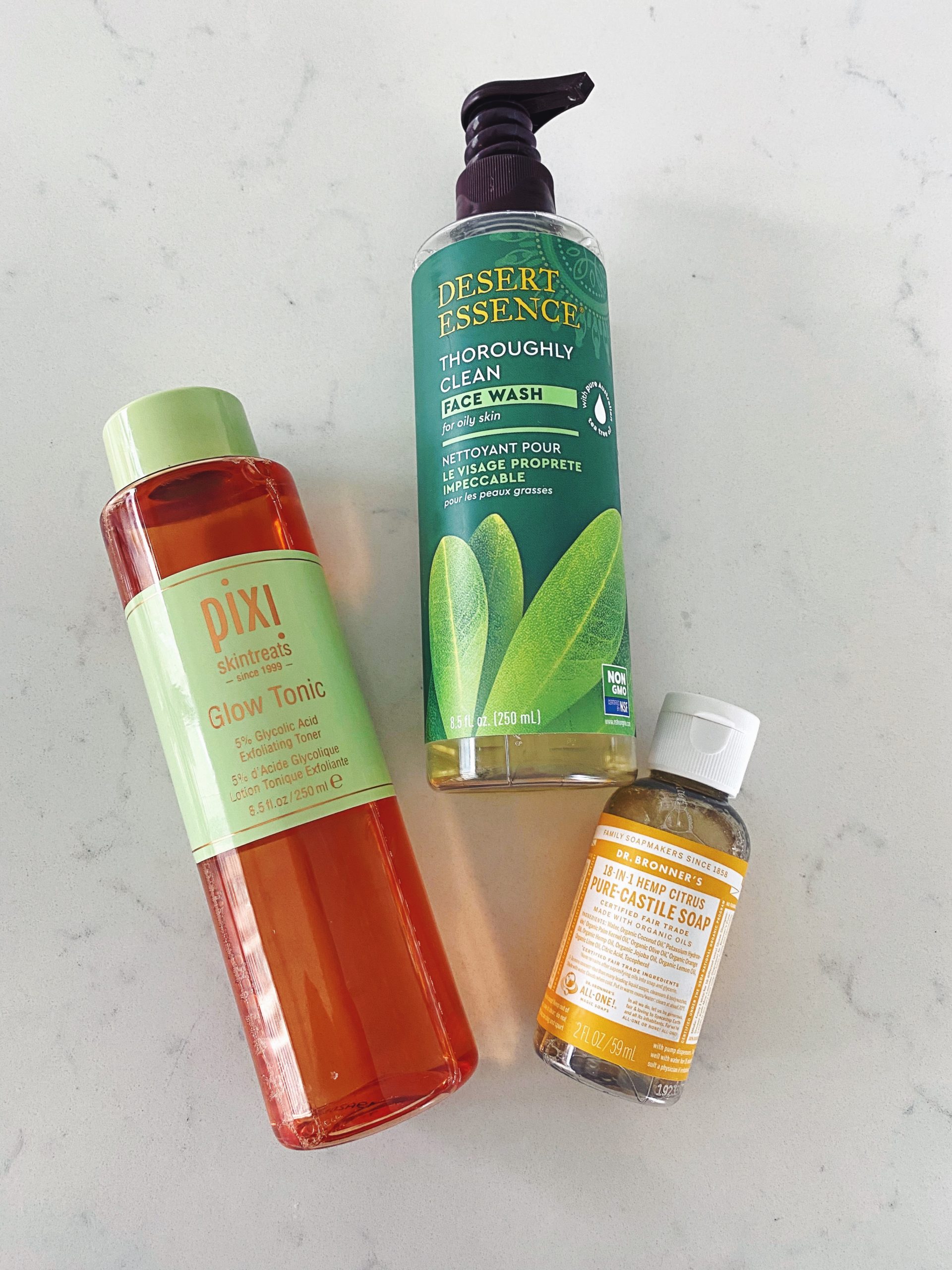 I switch off between Nature Essence Thoroughly Clean and Dr. Bronner's Liquid Pure Castile Soap.  They remind me of each other. Both thoroughly clean and wash off makeup (including mascara) with the most natural suds! Organic oils and all natural ingredients make your face feel squeaky clean, literally!
At night, I always do an extra swipe with a tonic, my favorite: Glow Tonic by Pixi!
Perfect for sensitive skin even with glycolic acid! It gently exfoliates and re-energizes the complexion while improving circulation to keep skin looking healthy and glowing.
When it comes to exfoliation, I like to switch off between a deep and light exfoliator.
For a light exfoliation, I love S'ente Exfoliating Cleanser. It's formulated with a proprietary blend of phytic acid and glycolic acid accomplish exfoliation of the skin with minimal irritation. This one has no grains, its simply just a liquid but proves to reap the benefits of an exfoliator with grain.
ZO Skin Health Exfoliating Polish– For a more deep exfoliation. One of your favorite kitchen staples is your face-cleansing hero. Packed with sodium bicarbonate (a.k.a. baking soda) particulates and magnesium crystals totally exfoliates making skin feel unbelievably smooth! This is one to use just once a week. It's VERY grainy, providing an unbelievable exfoliation but using too much can ultimately irritate the skin. Though a hefty price tag, it will definitely last you. A little goes a long way!

Once cleansed, I always follow with a serum or oil: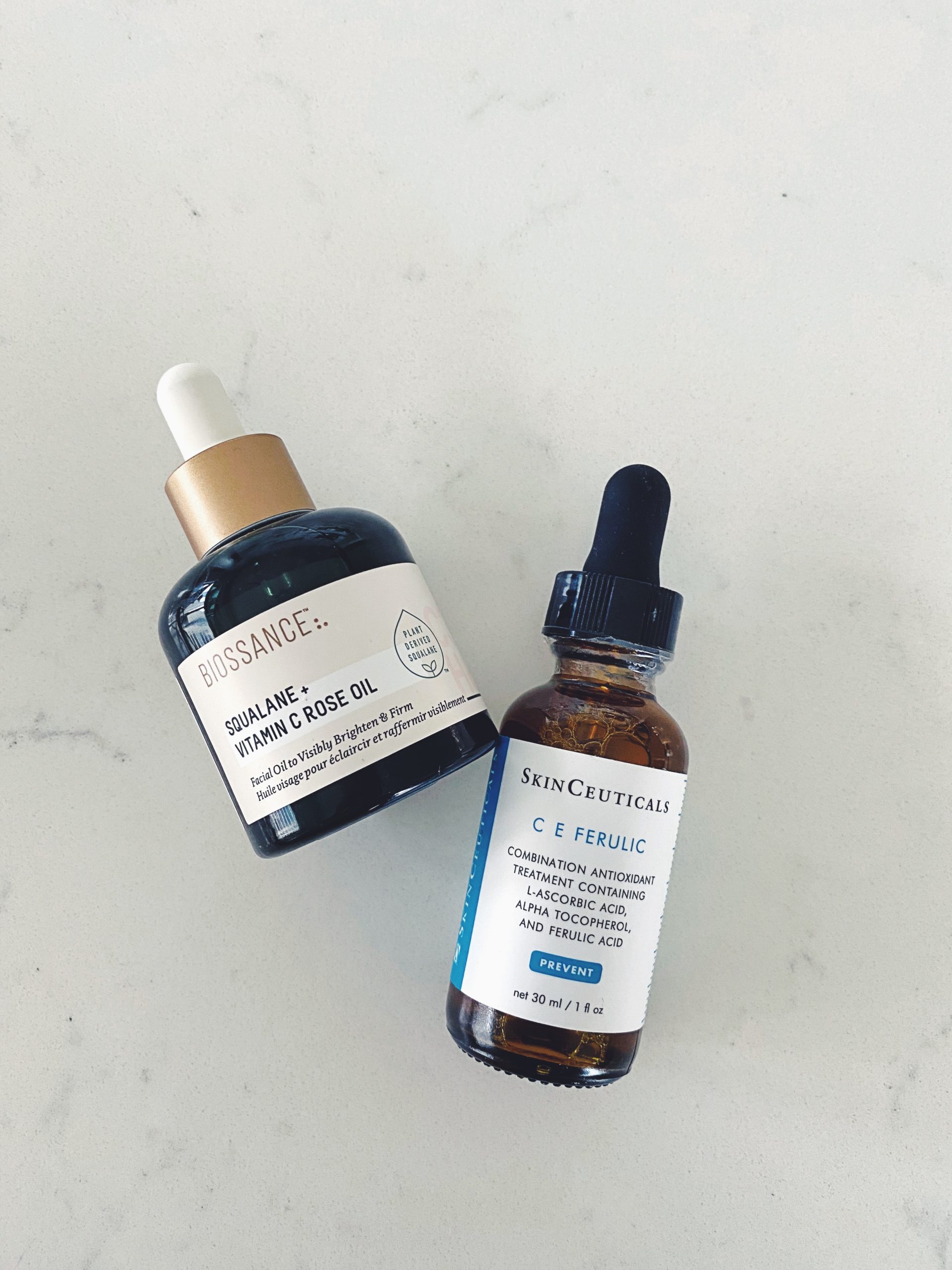 My two favorites I use religiously and switch off between Biossance Squalane + Vitamin C Rose Oil and SkinCeuticals C E Ferulic Acid.
Biossance S+VCROS – The holy grail of brightening, firming, improving tone and texture all while hydrating and plumping,  giving your skin a youthful bounce back. It's the skin's bounce that makes this product so addicting.
SkinCeutical's C E Ferulic Acid– Though the price tag might be high,  you're paying the big bucks to enhance your skin's protection against environmental damage caused by free radicals. In addition to antioxidant protective benefits, this formula improves signs of aging and photodamage to reduce the appearance of lines and wrinkles while firming and brightening your complexion.  NOT ONLY THAT, once absorbed, this vitamin C serum remains effective on your skin for 72 hours!
Onto moisturizers! Sharing both day and night: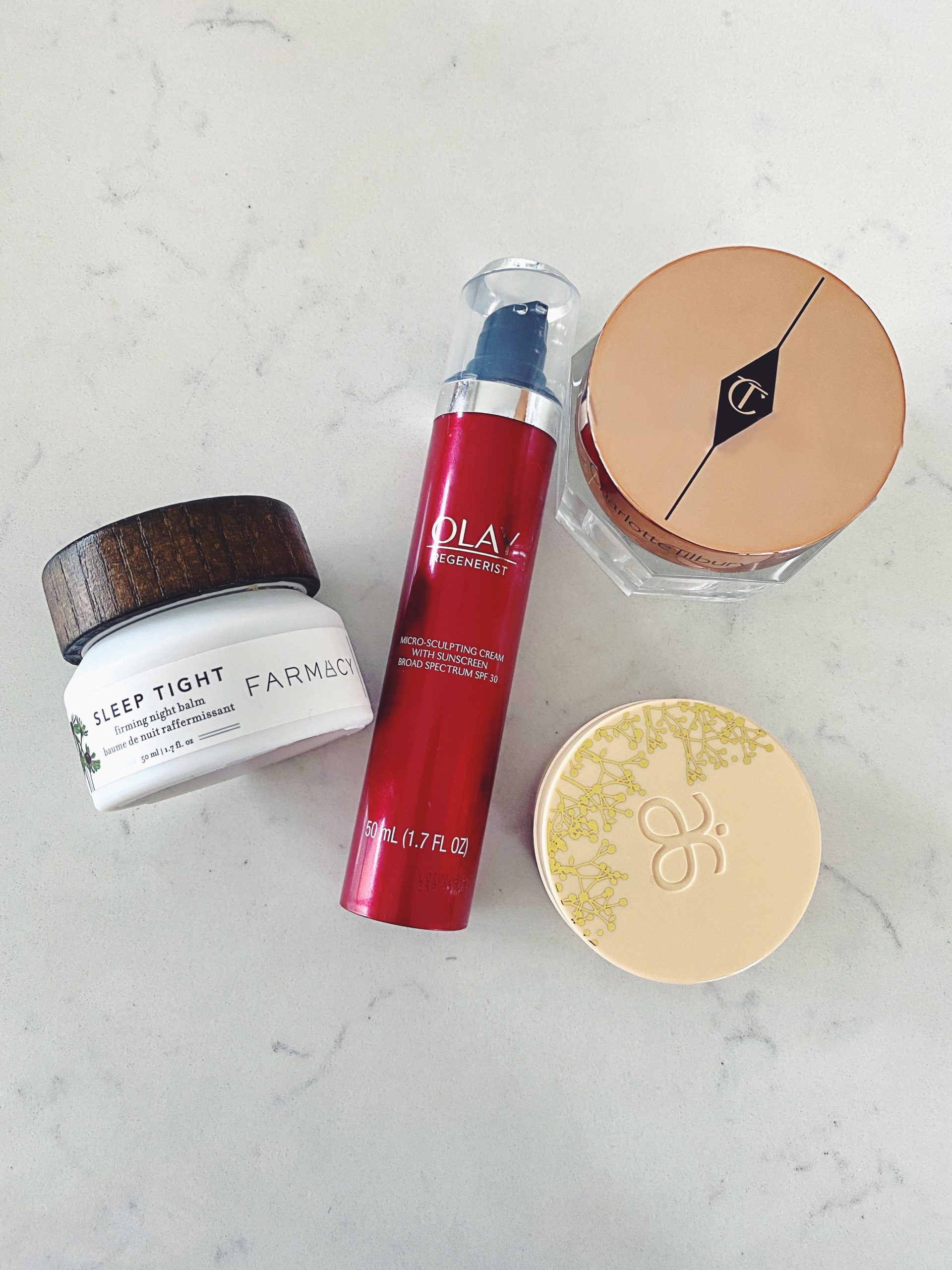 For day, my ultimate and perfect base for any makeup application is Charlotte Tilbury's Award-Winning Magic Cream.  And it's simply just that-MAGIC.
The revolutionary supercharged moisturizer is infused with a magic matrix of oils to flood your complexion with moisture and transform the appearance of tired, dull skin for a glowing, dewy, plumper-looking canvas.  It was originally created backstage to instantly prep and transform the look of models' skin before fashion shows and it became SO iconic, Charlotte had to 'bottle it'.  UM, SOLD.
Coming in right after that, my drugstore version of the "magic cream"- Olay Regenerest Micro Sculpting Cream is a miracle in a bottle. Lightweight and powerful, this moisturizer with amino-peptide complex delivers anti-aging ingredients, 10 layers deep into the skin's surface. It's basically magic cream at drugstore price. PLUS SPF 30!
For night- Loving these three:
Sunday Riley Tidal Brightening Enzyme Water Cream– An intensive moisturizing face gel that visibly plumps your skin for a more youthful complexion. With powerful ingredients like hyaluronic acid and tamarind extract leave you with noticeably hydrated and plump skin while papaya enzymes provide skin with a smooth finish. All those ingredients- hyaluronic acid, tamarind and papaya extract truly nourish and make the skin feel perfect.
Farmacy Sleep Tight Firming  Night Balm– This one was a bit strange at first but I grew to absolutely love it! By strange, I'm referring to its consistency. The texture is unlike a cream or gel, it's an entirely different genre- balm.  Though it's very lightweight,  a little goes a long way. It's a plant-based retinoid alternative and works wonders in firming and toning,  especially in reducing the appearance of fine lines and wrinkles.
Arbonne Advanced Repair Night Cream – The consistency reminds me of a nighttime version of Charlotte's Magic Cream. It's formulated with an ultra-hydrating blend of botanicals, plus collagen supporting ingredients that replenish moisture and deliver essential nourishment to maximize the skin's natural reparative cycle. Perfect combo of light yet creamy. Truly locks in moisture while you sleep!
Eyes & Lips: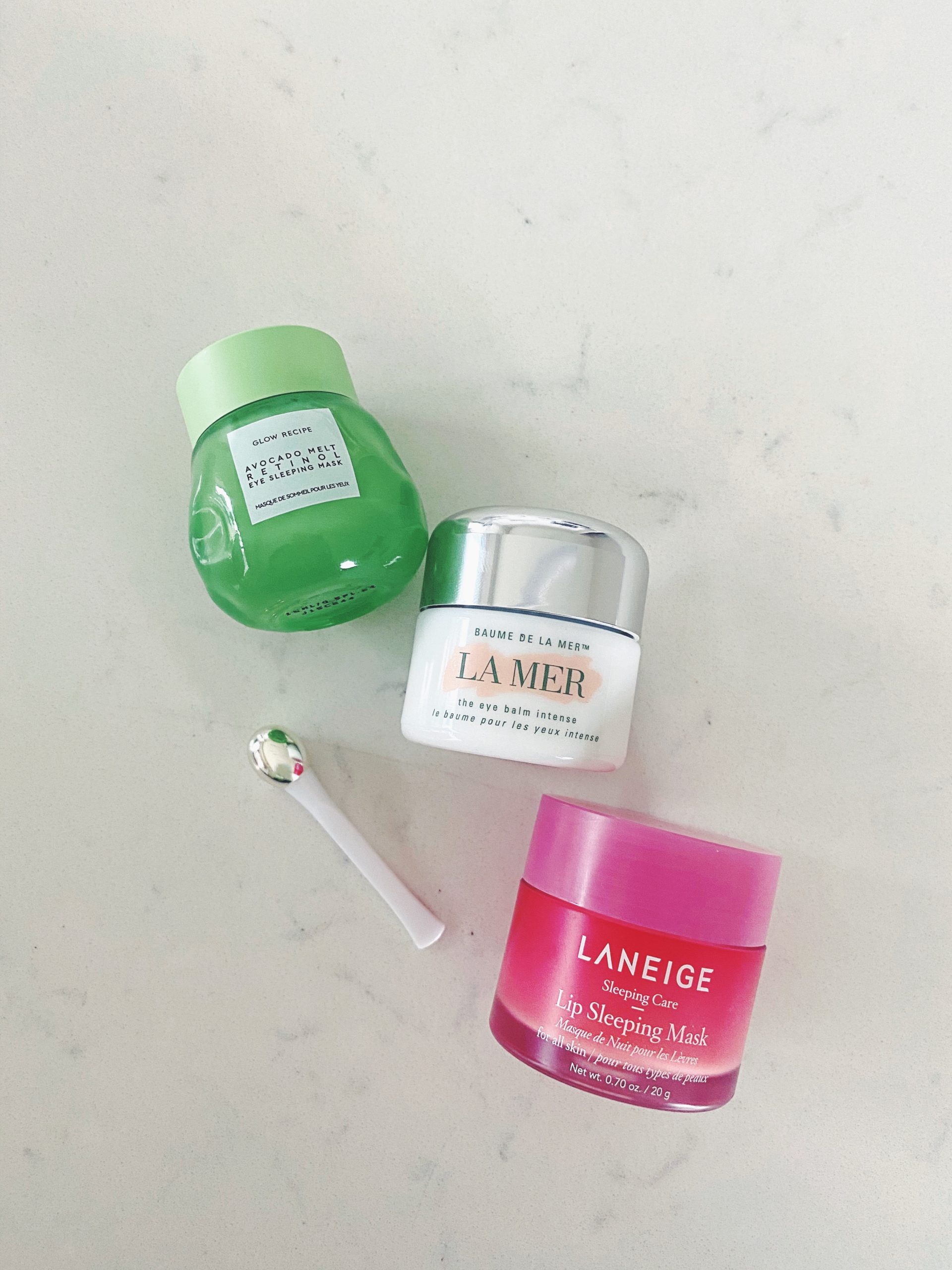 La Mer Eye Balm– Love this stuff! And it lasts you a LIFETIME!  Infused with a special 'Miracle Broth', it's extremely soothing and smoothing.  It's like a luxurious conditioner for your eyes! Obsessed with the silver tip applicator is comes with. Feels nice and cold when massaged gently under and around the eye area for increased microcirculation.
Glow Recipe Avocado Melt Retinol Eye Mask– Reminds me of Laneige Lip Mask, but for your eyes!  Just recently purchased this one, and I'm totally digging it.  The product truly does melt into your skin so you wake up looking glowy and bright.   The consistency is creamy, smooth and supple.  Feels really nice.
Laneige Lip Sleeping Mask– Truly something I can't live without.  If you have chapped lips, this is a game changer and will transform your lips overnight! Enriched with hyaluronic acid, vitamin C and antioxidiants, a generous layer of this soothing mask at bedtime helps reduce flakiness so you can wake up to lips that feel refreshed, supple, and soft to the touch. Not only does it heal and smooth, it gives the best shine and works as the perfect gloss.  LOVE.
Favorite Masks:

Umbrian Clay Mask by Fresh – Love, love, LOVE! It's a 2 minute miracle detox that instantly removes impurities, (works awesome on random breakouts) as well as a daily cleanser and even spot treatment for imperfections. Mineral-rich clay deeply cleanses and minimizes pores and shine.  Love the tightening feeling once dried, rinse away with warm water for a super clear reflection.
Drunk Elephant Sukari Babyfacial – Just recently discovered this and already on my second bottle! Holy AMAZING! It's like an actual spa facial, right at home! AHA/BHA resurfaces skin to reveal greater clarity, improved skin texture and tone for a more youthful radiance. Think of it as an extra nudge for your tired, stubborn, dull skin. Literally, knocking your cells right off! Also formulated with chickpea flour, pumpkin ferment and a soothing antioxidant blend of matcha tea, milk thistle and apple, it delivers incredible brightening and enzymatic action, improves skin's elastic feel and reveals the look of a more even, radiant baby-soft complexion.
Summer Friday Jet Lag Mask– It does exactly what it says: drenching your stressed-out skin in antioxidant-rich hydration for an instant spa glow. It's uber-dewy and hydrating that soothes thirsty, stressed-out skin by steeping cells in a nourishing mix of vitamins, ceramides, antioxidants and gently exfoliating extracts. Skin looks instantly renewed, radiant and ready for anything! Not only do I use this as a mask, when my face is really needing extra moisture, I'll use this as my night cream too. On top of that, when doing special occasion makeup, I use this to prep under my eyes and cheeks for an extra dewy look.  Makeup goes on insanely smooth!
SKII Facial Sheet Masks– I always loved to use the SKII Pitera water and then discovered there was a face mask drenched in it! Soft and luxurious, each cotton face mask is generously soaked with PITERA for maximum delivery to the skin providing intense hydration taking your skin to the next level of crystal clear.  Results:
• Brighter Glow – Improves radiance immediately after application by conditioning skin with intense hydration and boosting moisture retention.
• Smoother Texture – Improves texture by plumping up skin with moisture for elevated smoothness.
Avatara Drink Up Face Mask–  It's like a tall glass of water for your skin and my drugstore version of the SKII mask. Seriously it is $3!  With ingredients like blueberry, sugarcane, orange, lemon, sugar maple, arnica and aloe it helps dry skin restore and preserve hydration. Don't forget to massage all the leftover goodness onto your neck and decolletage!
Finally, the spritz that seals ALL OF EVERYTHING together, Mario Badescu's Rose Water Spray!  It's a cult-favorite and makeup artist must-have.  Revitalizes your complexion with dewy radiance while booting moisture AND glow! I tell you, this is everything.  I spray it before my moisturizers and after my makeup as a setting spray.  Not only that, I'll spray it throughout the day just to rejuvenate and re-energize the skin.  It gives you that perfect, healthy and radiant glow!

Some new product I recently got and am in the process of trying out: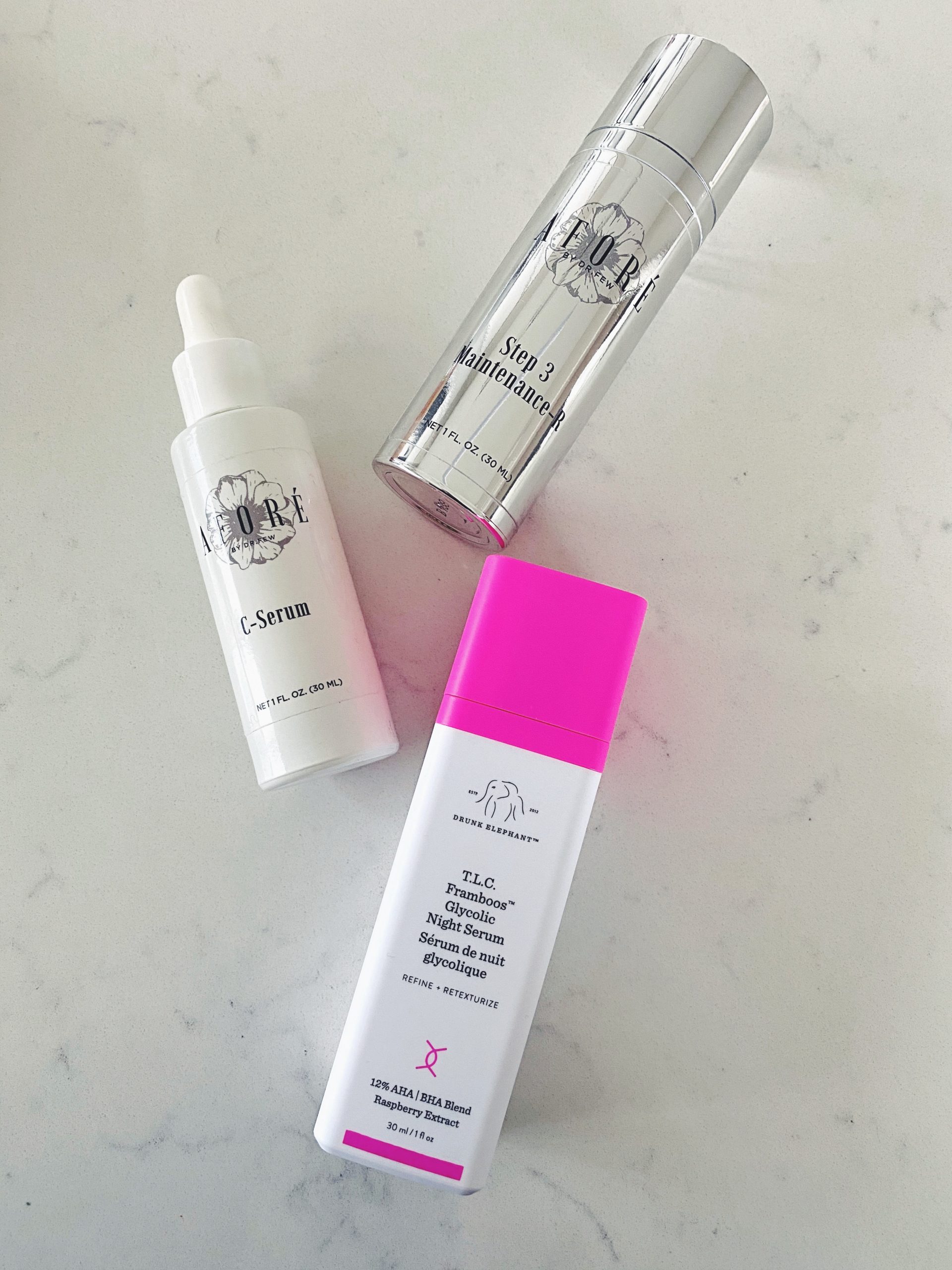 Aforé C Serum– Recently discovered this Vitamin C serum that repairs sun-damaged skin while stimulating collagen production and cell oxygenation. Uneven pigmentation as far as sun spots aren't dramatic on my skin but also love the idea of improving and fading hyperpigmentation. This serum also smells divine. Not at all overwhelming, just delicate notes of citrus. Feels extremely smooth in texture.
Aforé Maintenance R-Retinol – Never used a retinol, but I'm excited to try it! Definitely doesn't seem extremely harsh, using it on my skin every other night. This lightweight serum has an super silky application that's designed to promote cell turnover, enhancing the skin's firmness and smoothness. Feels like butter, follow with moisturizer!
USE CODE "ELA10" at checkout for anything Aforé!
Drunk Elephant T.L.C. Framboos Glycolic Night Serum– Basically a chemical exfoliation.  A night serum that resurfaces congested skin by lifting away dead skin cells to improve skin tone, texture, fine lines, wrinkles, and pores. Super excited to refine and re-texturize my skin with this product! And even more so excited about the raspberry extract!

I hope you find this post insightful and try some of these products for yourself! Obviously, every skin type is different, but if you find the right fit for you, I PROMISE, you won't be disappointed.
LOVE YOU GUYS SO MUCH.
xox